I experienced my first Pride this weekend and it was such a treat! I learned a very valuable lesson though. Don't wear v-necks when it's 90 degrees out.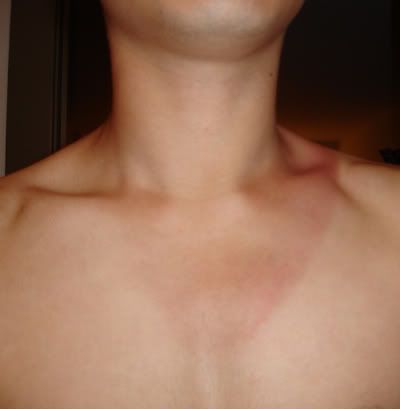 What I don't understand is why the V isn't centered. Not that my body was completely symmetrical to begin with, but this certainly doesn't help. I was so worried about my arms getting a farmer's tan that I completely forgot that other parts of my body could get nasty tan lines too. Not to mention my neck. I'm a redneck now! I think I can embrace being a redneck though. I stopped by Safeway this afternoon and got a bag of deliciously fried Jo Jos for lunch. Mmm so greasy.
My nose is probably burnt the most. But it's also bruised. No, there were no girl fights, just drunken dancing.
A side note about Pride. I never realized how many gay men there are in Seattle! There were probably a lot of visitors from out of town, but it's still surprising!