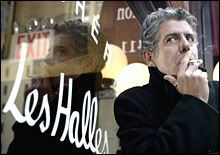 My man crush Anthony Bourdain spoke at the Moore last night and made me fall in love with him even more. Anthony was exactly the way he's portrayed in his show No Reservations. He was sharp, witty and very snarky. He also cussed a lot and referenced the Simpsons multiple times.
Anthony gave great insight on where he thought the culinary world was headed and shared his philosophy of good food. He also had no trouble censoring himself. He called Rachel Ray a rhino and poked fun at pretty much every food network "star", especially Sandra Lee. I found out that he and I share a similar appreciation of Giada De Laurentis, Mario Batali (and his dad's restaurant Salumi's) and Ina Garten.
I love Anthony Bourdain and want to have all of his skinny babies.