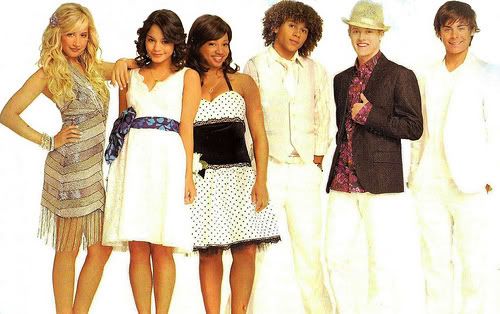 I am no longer with the times. I don't know when this happened, but it did. I'm getting older and I no longer know what's hip and cool with the kids. This became evident when I discovered not too long ago that "Hannah Montana" and Miley Cyrus are actually the same person. Yikes.
So, instead of following the footsteps of Drew Barrymore's character Josie Grossie from the late 90's classic "Never Been Kissed" and returning to high school disguised as a teenager to get with the times again, I decided to learn what's hip simply by chatting with a pre-teen. The coolest pre-teen I know is my niece Jules so I took advantage of a family get-together yesterday and got the scoop from her.
Here's what I learned:
- We heart the Jonas Brothers.
- The new Jonas Brother song is amazing.
- The eldest Jonas Brother is named Kevin.
- Watch Camp Rock on the Disney Channel.
- We can't wait for High School Musical 3.
- Ashley Tisdale is okay. Just okay.
- We like Zac Efron.
- We DO NOT like Allie Lohan. She is mean to her mom.
- We love Avatar.
The above statements are now my opinion too. I am cool again.