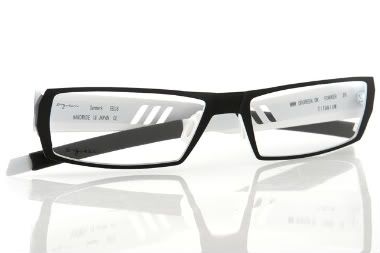 My cousin
LookRichBitch
often writes about all the pretty things she wants to buy, so it's high time that I wrote about what I want.
The beautiful spectacles above were designed by Orgreen, a company from Denmark that crafts eyewear inspired by high-end race cars. The pair above is called the Fokker and was handmade in Japan. I tried them on last night at Market Optical and they fit like a dream. They look amazing on me and they really make my bone structure pop. The Fokker is made of titanium so it's extremely durable and very lightweight. I want the Fokker. Now!
The problem of course is money. The stupid Fokker costs a lot. Um, "a lot" as in about $750 (this includes lenses). I know that's probably too much to pay for a pair of glasses, but did I mention how good they look on me? Really, really good. It would be a crime not to accent my bone structure with these lovely frames.
If I were to buy a designer bag for that much, I would get a lot more approval, well maybe just from
LookRichBitch
. But still. And yes, that's two plugs in one post for
LookRichBitch
. Make that three.
I haven't indulged in a while, so I'll probably go to Market Optical after my next paycheck. I can't stop thinking about the Fokker!
I know that my birthday was last week, but won't someone buy me the Fokker?