Ling Ling has died!
Ling Ling was the last giant panda at Tokyo's Ueno Zoo and he died today at the age of 22.
Here's a picture of Ling Ling and me outside of the Ueno station last month.
Speaking of Ling Ling, I'm totally craving some Ling Ling brand potstickers now. I bet they still sell them at Costco.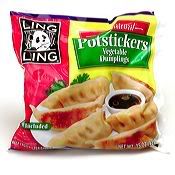 The Ling Ling brand is also 22 years old and is in good health.
Interestingly, the Ling Ling brand was named after the same panda that died today!